State of the road network
The 3.4 km multi-use pathway on the Samuel De Champlain Bridge provides pedestrians and cyclists with a secure and shared year-round link between Montreal and the South Shore. It offers a direct connection between Nun's Island (Île-des-Sœurs)—from the Claude-Robutel roundabout at the intersection of René-Lévesque Boulevard and Jacques Le Ber Street—and the La Riveraine bike path in Brossard. Its four lookouts also present an impressive view of the St. Lawrence River, the Seaway, and downtown Montreal.
Guidelines to ensure all users experience a safe and courteous passage on the pathway can be found below.
Follow the 20 km/h speed limit.

Share the pathway with fellow users, including cyclists, pedestrians, and persons using a wheelchair

Do not use a motorized vehicle (e.g. scooters or motorcycles), because they are prohibited on the pathway.
In the event of an emergency, users have access to 11 call-assist buttons to communicate with Sûreté du Québec. Additionally, there are bridge surveillance cameras linked to our Traffic Management Centre.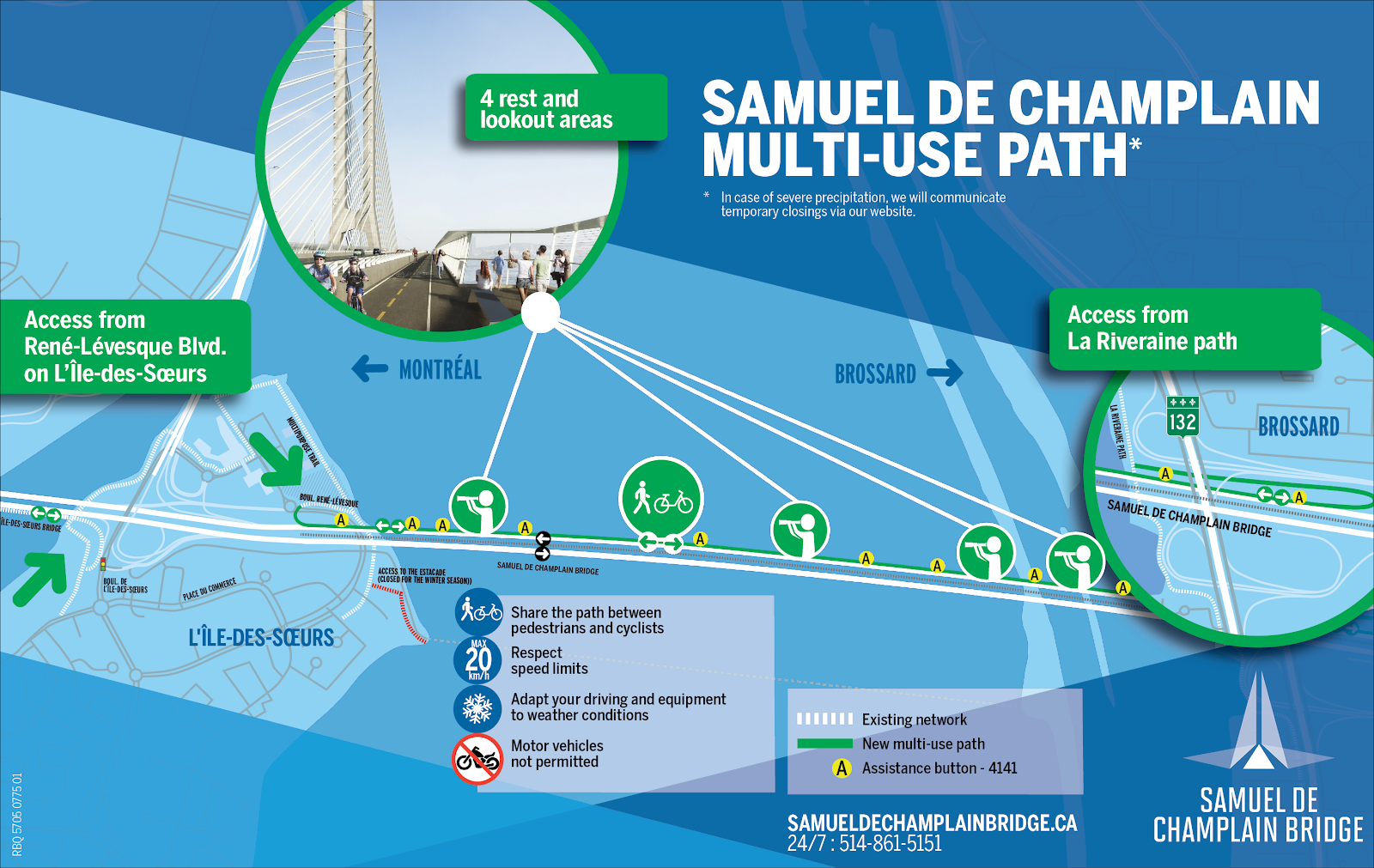 Temporary closures of the multi-use pathway
Signature on the Saint-Laurent's operations and maintenance teams ensure that the multi-use pathway is safe for all users, at all times. Occasional and temporary closures may occur based on certain criteria established with Infrastructure Canada, including the following:
Heavy snow or rapid accumulation of snow
Freezing rain
Strong winds and/or blowing snow
General security concerns
Please be advised that closures may proactively take place before the morning rush hour to prevent cyclists and pedestrians from being blocked on one side of the bridge at the end of the day. Once operations and maintenance teams have ensured the pathway is safe for cyclists and pedestrians, it is re-opened.
 
For closures and updates about the multi-use pathway, consult the following:
Multi-use pathway of Samuel De Champlain bridge open