Concrete poured for footings of main pylon for cable-stayed section of new bridge
Published on 16 April 2016
At the media technical briefing and worksite tour held March 18, we discussed the status of work on the cable-stayed portion of the bridge.

After having finished the installation of rebars within the formwork of the footings, we concreted the main pylon's south footing on Saturday, April 9. Tomorrow, the concreting will continue with the north side footing. Teams will be hard at work very early in the morning to coordinate all the cement mixers crossing back and forth over the ice boom (Estacade) to get to the cable-stayed jetty. In total, about 150 trucks will be carrying close to 950 cubic metres of concrete.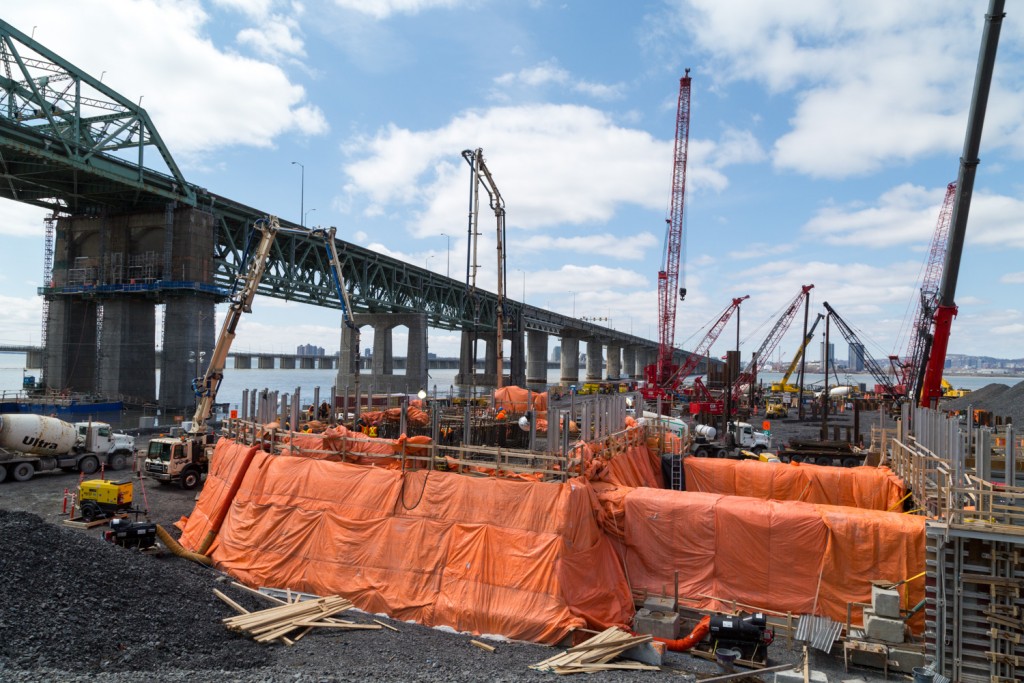 "Everything we've done on the cable-stayed jetty has led up to today's major and symbolic step for the new Champlain Bridge. After this, we'll be able to start raising the main pylon, which will emerge as one of the key features of the bridge," explains Frédéric Guitard, Signature on the Saint Lawrence Construction Manager for the cable-stayed bridge.
Each footing will then be capped by a pier base to be poured in place, and subsequently topped off by other pylon segments prefabricated off-site for LEGO-style assembly until they reach the bridge deck. Once that part is done, work on the upper pylon can begin.