Extended traffic disruption starting July 7 as part of the reconfiguration of Gaétan Laberge Blvd.
Published on 28 June 2016
UPDATE : Exit 60 on Hwy 15 North and the Gaétan Laberge interchange will reopen at the end of the summer
– – –
As part of the reconfiguration work on the Gaétan Laberge interchange, Signature on the Saint-Lawrence will be proceeding with a series of extended traffic disruptions. Starting July 7, there will be complete closures of Exit 60 on Hwy 15 North to Verdun / Downtown Montreal and the access to Hwy 10 westbound as of the Jacques le Ber / René Lévesque Boulevard roundabout on L'Île-des-Soeurs.
Here is a summary of the upcoming work-related disruptions as well as the detour routes (click to enlarge):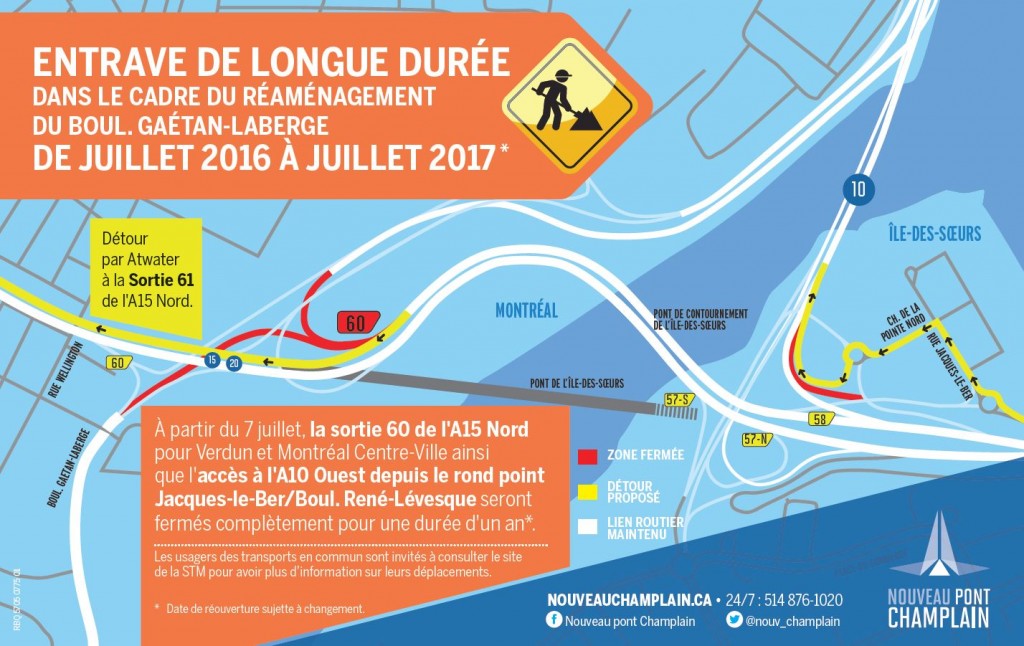 Drivers are encouraged to check our website and to follow us on Twitter @nouv_champlain for the latest information on the traffic disruptions.
We also strongly urge drivers to check the MTQ website www.quebec511.info before setting out or to follow the MTQ on Twitter @Qc511_Mtl for information on all disruptions in the Greater Montreal road network.
Public transit users can visit the STM website to see the impact on their route and bus stops.