The first marine pier cap is in place for the west approach
Published on 5 July 2017
A few weeks after the first pier cap was put in for the cable-stayed portion of the new Champlain Bridge, the west approach construction team has just installed a first pier cap on one of the piers in the middle of the seaway.
As it was the case on the cable-stayed jetty, the lifting operation of each half-pier cap is a complex process with numerous challenges, with some are uniquely due to an installation in the middle of the river.
"It takes many months of planning with all of the teams involved, to see how we can lift each half-pier cap with just one crane. We must then make sure to keep everything balanced perfectly as we lift, despite the current in the Saint Lawrence, the wind and limited work space. It's a delicate operation, where every millimetre counts," explains Jade Kfouri, Site Coordinator for the west approach of the new Champlain Bridge.
Alexandre Clouthier, Area Manager of the west approach, is pleased with the operation: "Preparation is the key for this type of activity to succeed, and we have spared no effort in making sure every last detail was ready. I am proud of my team, from the engineers to the workers who took part in the major lift, which enabled us to hoist a pier cap that weighs 400 tons in all."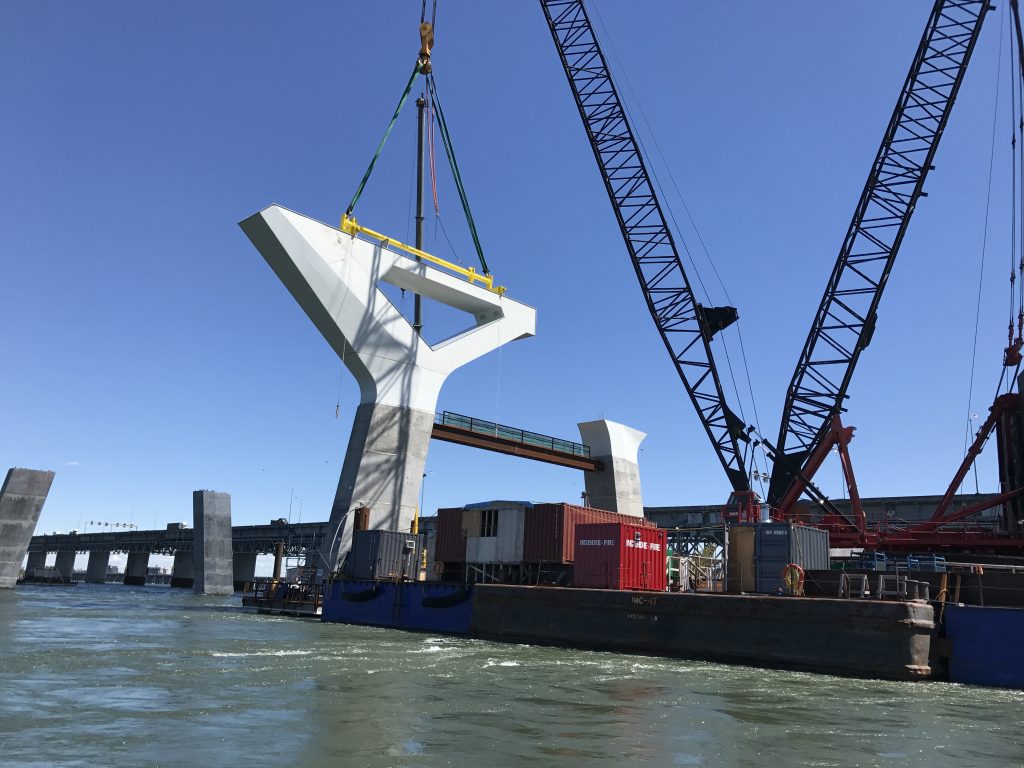 The pier caps are colossal, W-shaped lateral steel beams on which the three traffic corridors will rest. They are crucial structural elements that ensure support of the superstructure and deck. In all, 37 caps will be put in place over the coming months.