Reminder to be careful when navigating near construction work
Published on 19 May 2016
As part of the New Champlain Bridge Corridor Project, the Signature on the Saint Lawrence (SSL) consortium wishes to notify users of the St. Lawrence River that as the new Champlain Bridge goes up, construction activity will intensify in the River, in the Île-des-Soeurs Channel and Le Petit Bassin La Prairie, from the spring of 2016 until the projected completion date in December 2018. Operations such as delivering and lifting heavy parts could attract attention from boaters. Please be careful and follow the nautical safety measures in place.
New Champlain Bridge area
There will be a lot of activities throughout 2016. They include: maritime excavation using barges, installation of footings at the bottom of the river using an industrial catamaran, and installation of bridge parts with cranes on barges.
Delivering parts from the Port of Montreal to the job site
Delivering bridge parts from the Port of Montreal will require closing an area to boaters. This exclusion zone, between the Quai de l'Horloge in the Old Port and the Victoria Bridge, will occasionally restrict water traffic to allow tugs and barges to deliver their cargo to the new bridge construction site. The zone is restricted for the safety and protection of river users.
Nautical safety measures
For every sector affected in the River, navigational corridors and marker buoys will be installed to clearly delineate the work area. When necessary, equipment, temporary jetties and work areas will be lit up in order to be visible at night. Tugs will use fog horns to warn people that certain nautical operations are under way. Some areas will feature additional safety measures to make sure boaters follow the corridors and behave appropriately.
Maintenance work on the existing Champlain Bridge
Jacques Cartier and Champlain Bridges Incorporated (JCCBI) will be carrying out several operations as part of the reinforcing and maintenance of the existing bridge, including the installation of modular jackets and pile repairs. Information signs and marker buoys will be installed to guide users under the bridge in areas where there is preventive concrete scaling work taking place. Whenever possible, the JCCBI navigational corridor will follow the one established by SSL to make navigation easier for boaters.
Reminder to use caution
We are asking boaters to be particularly careful during this period of intense activity, follow instructions and slow down when nearing work areas. It is important that you navigate carefully at all times. Each captain is responsible for navigating with the proper bathymetric charts and to use the proper navigation channel for his boat. As such, SSL is in no way responsible for nautical incidents involving the bed of the navigation channels.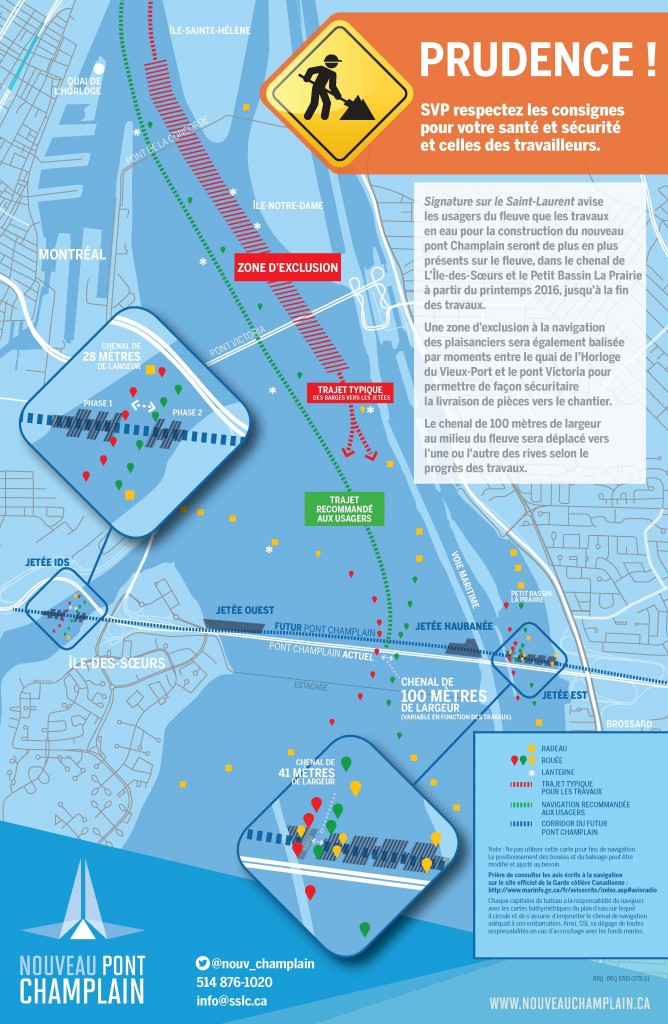 Information
For more information, users are invited to check in regularly for updates on our web site: www.newchamplain.ca. If you have any questions or comments, write to info@SSLC.ca or reach our Call Centre at 514-876-1020.
Users can also visit the JCCBI's web site at www.JacquesCartierChamplain.ca for more information on the current Champlain Bridge's maintenance work.