Learn more about the erection of the main pylon of the new Champlain bridge
Published on 10 November 2016
Signature on the Saint Lawrence is proud to present the first instalment in a web series titled "Inside the Giant," which will document the main components of the construction of the New Champlain Bridge Corridor Project. The twelve educational web videos, to be aired over the next two years, will provide an occasion for those interested to learn more about one of the largest infrastructure projects in North America and to meet some of its builders.
Each episode will have its own theme. The first, launched today, will focus on the erection of the main pylon, with Frédéric Guitard, Cable-Stayed Bridge Manager.
To learn more about the main pylon on the new Champlain bridge, here an infographic with more details :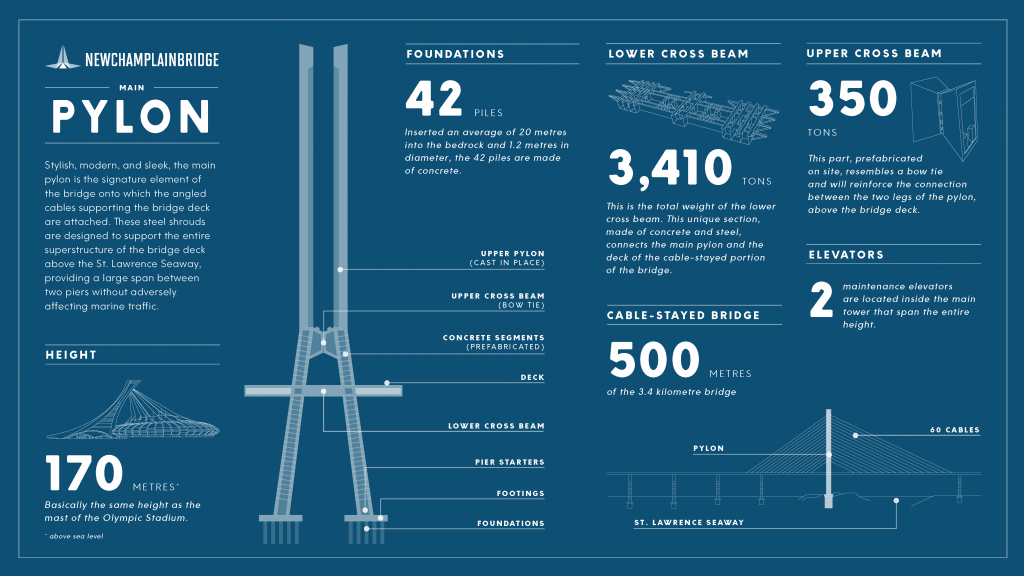 The second episode, already in the works, will be on the East approach, with Stéphane Pereira, Area Manager, who will explain the distinctive characteristics of the work being done on the South Shore. Other videos will follow in the coming months, including the prefabrication of the concrete foundations and their installation in the river, as well as quality management for a bridge designed to last 125 years.
Viewers can watch the Web series on Facebook, YouTube and the www.nouveauchamplain.ca Web site.