Project Update and invitation to the Good Neighbourly Relations Committee Meeting on February 8, 2017
Published on 1 February 2017
Good Neighbourly Relations Committee meeting on February 8, 2017
The Good Neighbourly Relations Committee meeting will be held on Wednesday, February 8, at 7 p.m., at the Elgar Community Centre (260 Elgar Street, L'Île-des-Soeurs). During this meeting, we will discuss past, current and upcoming work, as well as the main impacts expected, especially in terms of noise and mobility. The Good Neighbourly Relations Committee meeting is an opportunity for people who live close to the work areas and the general public to obtain information, ask questions and discuss openly and transparently. We hope to see you all there.
Current and upcoming work to widen Hwy-15
As the widening of Hwy-15 continues, our work will include the building of new overpasses and putting up of retaining walls between the Atwater Interchange and Wellington Street.
Night work on the LaSalle and Wellington overpasses
In the coming weeks, workers will be installing girders for the new Wellington and LaSalle overpasses. These activities will take place between 10 p.m. and 5 a.m., with each overpass taking three to five nights. The work will be done at night to minimize the impact on local traffic. There will be a complete closure of the roads under the overpasses between 10 p.m. and 5 a.m.
Although these operations will remain below the noise levels set out in the partnership agreement with the Government of Canada, they will be monitored to make sure they do not exceed the criteria for night work, which are stricter than for daytime work. Should the levels be exceeded, work will halt, and measures will be adopted to ensure compliance.
Relocation of power pedestals on Argenson and Wellington
Also in the LaSalle/Wellington area, the new road configuration will require the moving of power pedestals on Wellington Street (between Gilberte Dubé and Butler) and on Argenson Street (from the LaSalle overpass to Grand Trunk in the Sud-Ouest). This work will start shortly and will involve the demolition of sidewalks and digging of trenches. Each sector will require approximately two months of daytime work. During that time, there will be a signaller when needed, a detour for pedestrians and cyclists will be set up, and bus stops will be relocated, if need be.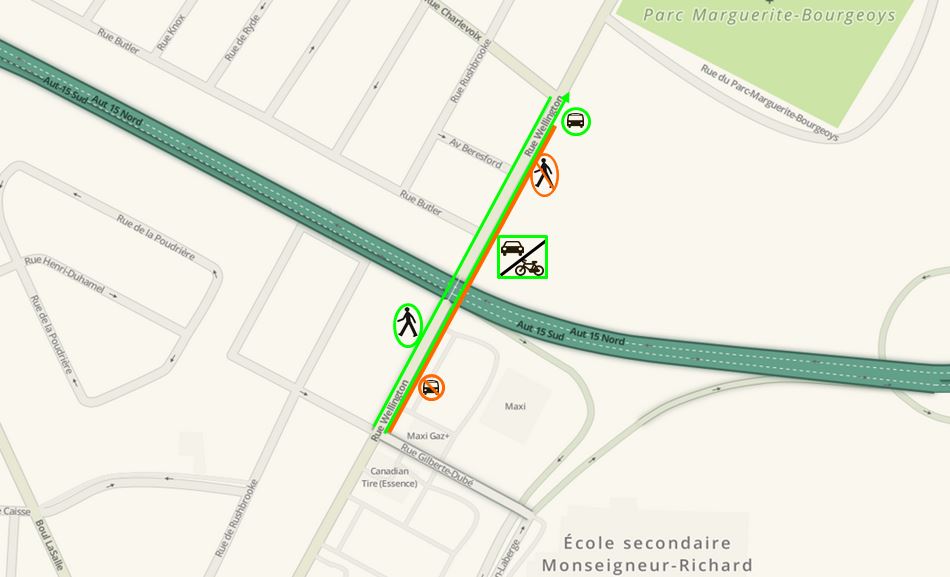 Work schedule
The majority of our activities are carried out on weekdays, from 7:00 a.m. (with teams arriving at the job site around 6:30 a.m.) to 7:00 p.m., and they sometimes extend into the weekend, during the same hours. Some work may take place in the evening and/or at night, such as snow removal and the installation of overpass girders.
Summary