Closure of the Hwy-10 West – Bonaventure Expressway on-ramp from the Claude-Robutel roundabout for one month* starting May 22 (10 p.m.)
Published on 24 May 2019
As part of the construction of the New Champlain Bridge Corridor Project, Signature on the Saint Lawrence wishes to inform road users of a major disruption on L'Île‑des‑Sœurs.
As a result, starting Wednesday, May 22, 2019 (10 p.m.), the Hwy-10 West on-ramp from the Claude-Robutel roundabout will be completely closed for one month.* This traffic disruption is required to complete construction work on highway approaches/on- and off-ramps.
Please note that the Hwy-10 West on-ramp from the Graham-Bell roundabout will be open starting Thursday, May 23, 2019. Road users are asked to use this access during the period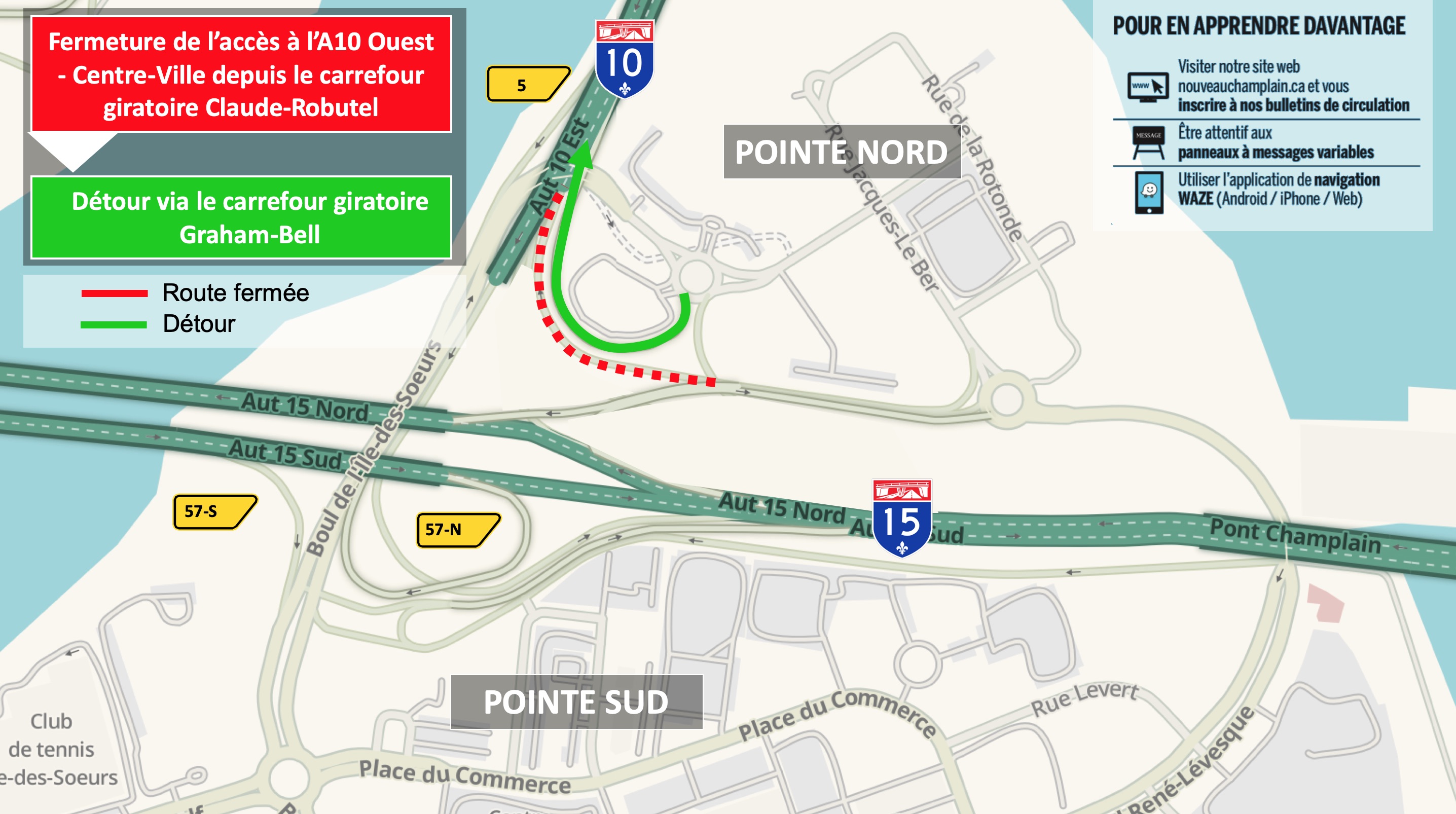 * Date and duration subject to change. Closures may be cancelled or modified in case of adverse weather conditions or operational constraints.
Drivers are urged to check our website or follow us on Twitter @nouv_champlain for up-to-date information on traffic disruptions. You can also learn about major disruptions on the Waze community-based traffic and navigation app (iPhone/Android/Web). 
We also strongly urge drivers to check the MTQ website www.quebec511.info before leaving home or follow the MTQ on Twitter @Qc511_Mtl for information on all traffic disruptions in the Greater Montreal area. Public transit users can visit the STM or RTL websites to see what impact this will have on their routes and bus stops.
– – – – –
To help you better understand the various steps leading up to a traffic disruption, Signature on the Saint Lawrence has created an infographic with more details on the process and the work of our Mobility team: