Earthworks and landscaping work underway – Verdun Sector
Published on 19 May 2020
After the Quebec government's request for closure of construction site, the Signature on the Saint Lawrence team (SSL) is back to finalize the works around and on the Highway 15.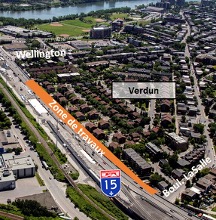 Final earthworks and landscaping
Along the new highway, on the Verdun side between LaSalle Blvd. and Jacques-Lauzon Street (orange area pictured), SSL began drainage and earthworks, before completing landscaping work in the area.
Impacts of the work and follow-up
These works are medium to low intensity, but due to the proximity of the residences, this short-term work will be noticeable. In addition, as the required space goes to the edge of residential land, it was not possible to install temporary noise walls. The team will track noise during the activity to assess the situation and, if required, will ensure that working methods are improved, based on existing constraints.
Type of work: Earthworks and landscaping work between LaSalle and Jacques-Lauzon
Duration: 3 weeks, starting in mid-May
Schedule: 7 a.m. to 7 p.m., Monday to Friday
Weekend work to be planned on the highway corridor
At the same time, the finishing work will take place in the coming weeks on the Highway 15 corridor. Major weekend closures are expected in the coming months and will be communicated by SSL and Mobility Montreal. Find out more on our website at the following link http://www.pontsamueldechamplain.ca/trafic-et-detours/. During these major closures, SSL will work mainly during the day, but less noisy night work will be carried out during these major closures.